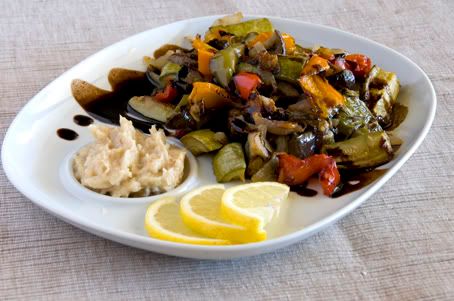 As simple as roasting vegetables might sound, I believe there is an art to it. The vegetables have to be charred but not burnt, crispy yet tender and not too oily neither dry. So, this goes for all the 'simple' dishes that you just have to know the art behind it, and once you do suddenly these simple, everyday dishes start looking fancy![and you start looking-and cooking-like one fancy chef!]
Back to the roasted vegetables : I prefer not to use root vegetables such as potatoes,carrots and parsnips to this dish, because they dont get roasted the same way with the others, but feel free to experiment! The key about cooking these babies is patience. Yes, I know no one gets excited with this word, not even me. But, be patient!![here it comes again!sorry!]
Ingredients
-2 eggplants
-2 green bell peppers
-1 red bell pepper
-1 orange bell pepper
-4 zucchini
-3 onions
-a bit less than 1/2 cup olive oil
-salt&pepper
-3tsp olive oil
-3 garlic heads
-balsamic glaze/crema di balsamico [store-bought or homemade]
Chop vegetables, taking care not cut the eggplant pieces too fat because they cook slower than the others. In a big baking dish add half f the oil, then the vegetables and then pour over that the rest of the oil. Toss to oil everything, sprinkle with salt and pepper and toss again. Cover with baking sheet and place in preheated oven at 185C.
Now I have to say that this is a really good time to roast some garlic heads. For this dish you need about 3 but if you want for other uses roast more, since you are using the oven for quite some time. Chop the top of each garlic head to expose the cloves, and pour a teaspoon of olive oil on each head. Wrap in baking sheets individually and put in the oven as well.
After 40 minutes, take the baking dish out of the oven, uncover and place on the bottom of the oven to broil the veggies for a bit and give them some crisp. This will take around 20 minutes but check often and stir if needed. Once they are ready take the dish and garlic heads out of the oven. Unwrap garlic heads and leave to cool until you can handle them. With a spoon take out each garlic clove [it will be soft and mashed] and place in a small bowl. With a fork mash them up all together to form a paste. Drizzle balsamic glaze over vegetables and serve with lemon and the roasted garlic paste.
Serves 4 as a main dish!