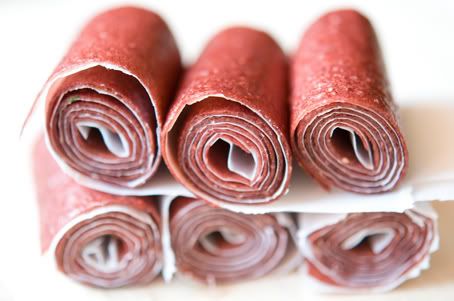 I really, really like fruit roll-ups, but the store-bought ones are not the healthiest thing as they are laded with sugar and artificial ingredients. I always wanted to try making my own, [ I have made sour cherry leather before] and having a dehydrator on my hands was definitely a good chance to make it. I decided to go with a pretty simple combination, the most popular smoothie combo : bananas+strawberries!
The end result : a sweet, candy like confection that tastes like the popular smoothie! Give it a try and you won't be disappointed. Its a good snack to munch on!
Ingredients
-400gr strawberries
-2 bananas
-1 tsp vanilla extract
-1tbsp agave syrup or other sweetener

In a blender, add all ingredients and blend until smooth, taking care to crush the strawberry seeds [ if your blender is not powerful enough to do that you will need to strain this] Spread the mixture on the dehydrator sheets and dehydrate on 41C for 6-8 hours, flipping once,until its completely dry. Roll up in baking paper and cut to serving sized pieces.
*You can totally make this in an oven as well, on the lowest temperature until the pulp is completely dry. They just won't be completely raw and it's more of  hassle, but it is definitely doable.