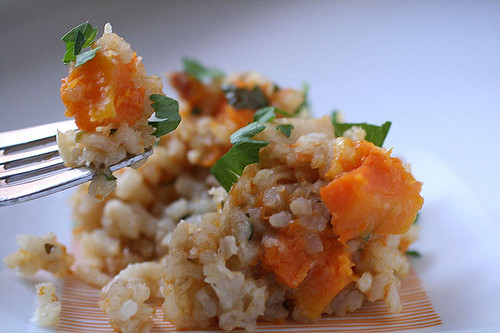 Butternut squash risotto is a classic fall dish, and it's one that will please even the pickiest of guests (I'm talking to you, meat-eaters). Comforting, creamy and oh-so-satisfying, you may find yourself making this risotto every chance you get.
Ingredients
1 butternut squash, peeled and chopped into 1" chunks
1-1/2 cups Arborio rice (spring for the good, imported kind)
1 onion, diced
3 tbsp. olive oil
4 tbsp. butter
5 cups vegetable stock
1 cup dry white wine
1/4-cup parmesan cheese, grated
A dash of freshly-grated nutmeg
Vanilla extract
Salt and pepper to taste
Instructions
Heat the butter and oil in a saucepan over medium heat.
Add the onion, and cook until softened.
Add the butternut squash, and stir until coated with the oil/butter mix.
Add a drop or two of vanilla extract. Be careful not to overdo it.
Add some freshly-grated nutmeg.
Add 1/2 cup vegetable stock and 1/2 cup of the wine.
Cover, and allow the mixture to simmer for about 20 minutes, or until the squash is tender (don't allow the squash to turn to mush).
Meanwhile:
Heat the remaining four cups of vegetable stock in a separate saucepan over medium heat, and keep it at a simmer.
Once the squash is tender:
Heat 1 tbsp. butter and 2 tbsp. olive oil in a large saucepan over medium heat.
Add the rice, and stir constantly for about 5 minutes, or until the rice squeaks.
Add the remaining white wine, and stir until the pan is nearly dry.
Pour in one cup of the heated vegetable stock, and stir until fully absorbed.
Add the squash mixture.
Stir for one minute, and add another 3/4-cup of stock.
Stir for 30 seconds.
Keep stirring to keep the rice from sticking.
Once absorbed, add another 3/4-cup of stock.
Repeat these steps until the rice is al dente, but cooked in the center.
Season with salt and pepper.
Add the remaining two tablespoons of butter and parmesan cheese.
Stir, and serve immediately.
Feel free to top your plate with some extra black pepper, freshly-grated nutmeg or parmesan cheese (or all three – we won't judge).
One thing I do have to note here: please, please make sure that you use a good imported Arborio rice. Otherwise, you'll be quite disappointed with the results.
Also, the recipe says to "continue stirring," but like with any other risotto recipe, you don't want to stir the entire time. Constant stirring will give your risotto a texture that's more like mashed potatoes than anything else.