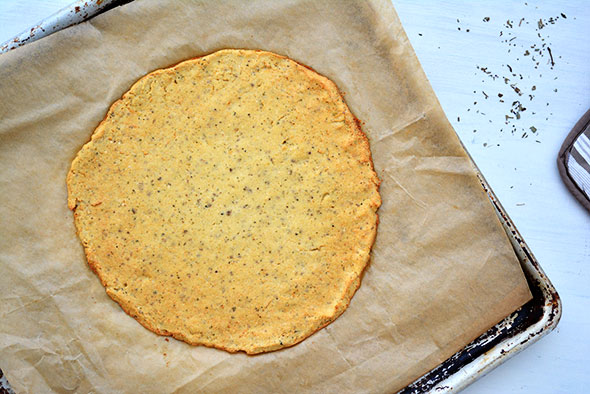 Of all the superfoods on the planet, cauliflower is all the rage right now. We're using this low-carb veggie to make everything from "breadsticks" to "rice" and yes, even pizza crust. With a neutral taste and satisfying texture, this vegetable makes a great replacement for all those high-carb, fattening foods we're trying to stay away from.
I never did have much luck with the pizza crust until I found this recipe from the Food Network's Katie Lee. Here's how to make this paleo-, vegan-friendly pizza:
Ingredients
1 cauliflower head
2 eggs, beaten
1/2 cup mozzarella cheese, shredded
1/4 cup Parmesan cheese, grated
1/2 tsp. salt
1/2 tsp. oregano, dried
1/4 tsp. garlic powder
Makes 1 pizza crust
Directions
Preheat your oven to 400F.
Line a round baking sheet with parchment paper.
Remove the stalk from the cauliflower, and carefully break it into florets.
Place the florets into a food processor, and process until finely chopped.
Steam the cauliflower in a steamer basket.
Drain well, removing as much moisture as possible.
Let the cauliflower cool.
Mix the Parmesan cheese, mozzarella cheese, salt, oregano, eggs and garlic powder in a large mixing bowl until well combined. At this point, it should look a little more like dough.
Transfer the mixture to the center of your parchment-lined baking pan.
Spread the crust mixture out to form a circle.
Bake for 20 minutes.
Add your favorite toppings.
Bake another 10 minutes.
Helpful Tips
If you don't have a food processor, you can finely chop the florets by hand, or break them down into smaller pieces by hand. This can be pretty time consuming, so I highly recommend using a food processor for this recipe.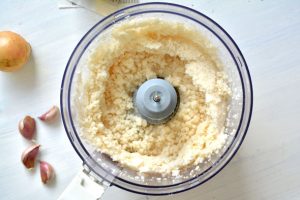 When draining the cauliflower, I try to remove as much moisture as possible. A towel can help soak up any leftover moisture.
Make sure your cauliflower is very finely chopped, so it mixes well with the other ingredients. Large lumps can throw off the texture of the crust and keep it from getting nice and crispy in the oven.
You can use any toppings you want with this crust, but I do recommend taking it easy with layering toppings. A supreme pizza, for example, may not be the best choice for this crust. Remember, it's not quite as springy or flexible as a gluten crust.
This is the best cauliflower pizza I've ever tried, and the only one that stayed together. Enjoy!