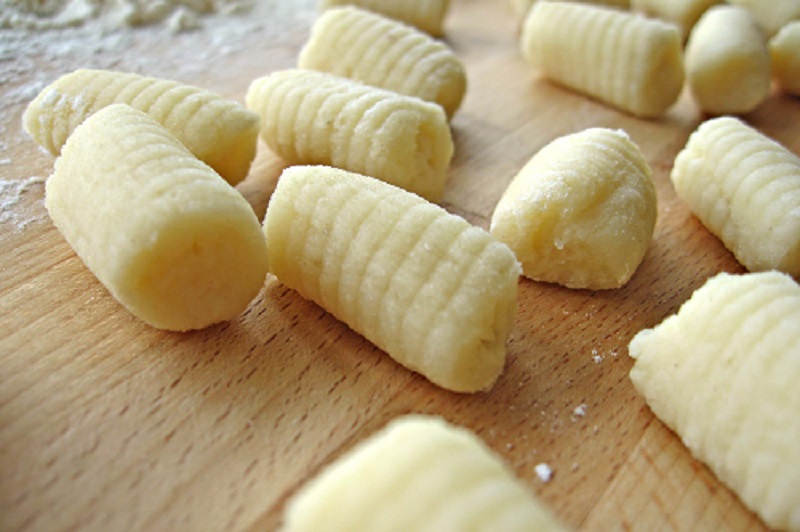 When made just right, a good bowl of gnocchi will make you weak in the knees. These potato-pasta dumplings are the ultimate in comfort food, and probably the only comfort food I know of that's actually healthy. Made with just a little flour, potato and egg (optional), gnocchi will give you the energy you need to power through a workout.
I won't lie – making gnocchi does take work, but the end result is so worth it. This recipe makes 6 servings, a big enough batch for a small crowd.
Ingredients
4-pounds russet potatoes
2 cups all-purpose flour (plus some additional for dusting)
2 egg yolk, beaten (alternatives: 1 tablespoon butter or olive oil)
1 tablespoon olive oil
2 teaspoons salt
4 tablespoons parmesan cheese, grated
Dash of pepper or nutmeg (or both)
I recommend using a potato ricer for this recipe. I won't dare try to make gnocchi without one.
Instructions
Preheat oven to 425F.
Pierce the potatoes with a fork, and place them on a baking sheet.
Bake in the oven for about an hour, or until tender.
Once the potatoes are cool:
Cut each potato in half, and remove flesh.
Run the potato flesh through the potato ricer.
Create a well in the mixture, and pour in the egg yolk, (optional).
Sprinkle the mixture with cheese, salt, pepper and a pinch of nutmeg.
Add 1 cup of flour and the oil.
Gently work the dough using just the tips of your fingers. The flour should be barely incorporated.
Add the remaining 1 cup of flour, and work the dough very gently.
To make the gnocchi:
Turn out the dough onto a lightly floured work surface.
Work the dough very gently for another minute or two. Add a little more flour if the dough is too wet.
Cover the dough with plastic wrap, and allow it to sit for 30 minutes.
The dough should feel like dough – not mashed potatoes. Once the mixture stays together, you're good to go. You don't want to work the dough too much, or you'll wind up with gummy, heavy gnocchi.
Clean off your work surface, and dust it lightly with flour.
Break off one-eighth of the dough, and roll it into a 3/4″ thick rope.
Cut the "rope" into 1/2″ pieces.
Place the pieces onto a lightly-floured baking sheet.
Using a small fork, press each gnocchi lightly.
Repeat with the remainder of the dough.
To cook the gnocchi:
Add salt into a large pot and bring the water to a boil.
Add half the gnocchi, and give it a good stir.
The gnocchi will float to the top of the water when it's ready.
Remove with a slotted spoon.
Repeat with the remaining gnocchi.
Toss with your favorite sauce.
The gnocchi can be cooked right away, or you can freeze it for later use. When cooking, you can toss the frozen gnocchi right into the pot.