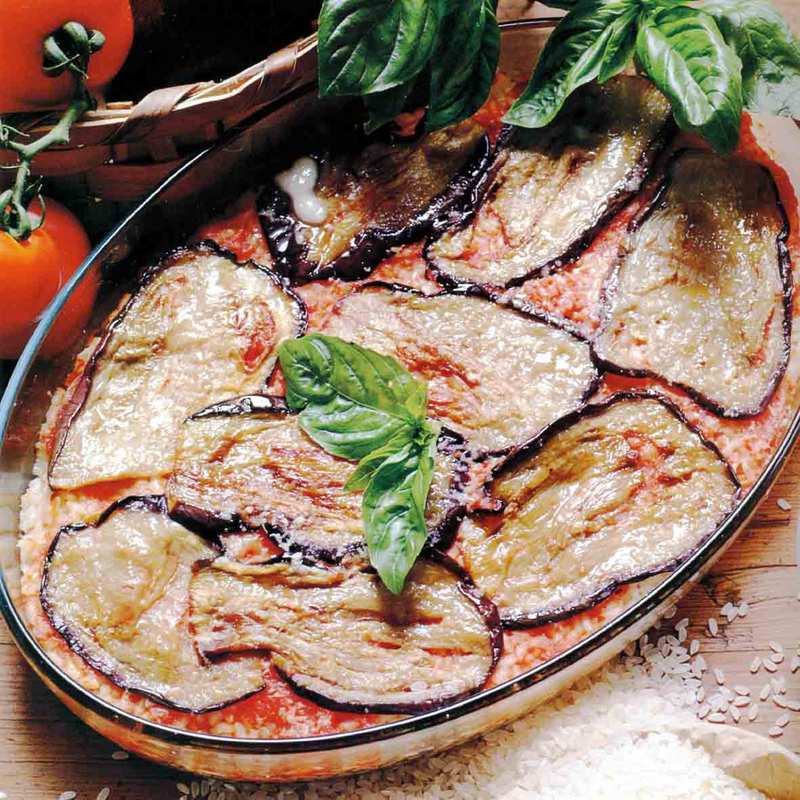 When I first went vegetarian, the dish I missed – craved – the most was chicken parmigiana. The good news? Eggplant parmigiana is just as good. The bad news? Eggplant parmigiana is just as good. Seriously, I probably make this dish way too often.
If you're not a big fan of eggplant (I wasn't at first), I encourage you to give this Fine Cooking version a try. The eggplant is peeled and fried, so it's not spongy or hard to chew. The eggplant slices aren't breaded either, so it's gluten-free to boot.
Ingredients
Eggplant
3 cups olive oil
2-1/2 pounds of eggplant (about 2 medium or 4 small)
Sauce
2 garlic cloves, peeled and halved
3-1/2 pounds of plum tomatoes (seeded, peeled and chopped), or 2 x 28oz. cans of San Marzano tomatoes (drained)
3 tablespoons olive oil
12 fresh basil leaves, halved
Assembly
1-1/4 cups of Parmigiano-Reggiano, grated
6 oz. fresh mozzarella, torn into 1/2″ pieces
Instructions
The Eggplant
The first and most important step is to salt the eggplant. The salt draws out all the moisture, making it easier for the eggplant to absorb the oil, and get nice and crispy when fried.
First, peel the eggplant.
Cut crosswise into 1/4″ thick slices.
Cover the top and sides of a colander with eggplant slices, and sprinkle them generously with salt.
Add more layers of eggplant, and add more salt.
Repeat this process until you run out of slices.
Let the colander sit for 30 minutes – 2 hours.
The Sauce
While you're waiting for the eggplant, make the sauce.
Heat the 3 tablespoons of olive oil in a skillet on medium heat.
Add the garlic, and allow it to cook until fragrant (about 1-2 minutes).
Add the 1/2 teaspoon of salt and tomatoes.
Turn up the heat to medium, and allow to cook for 25 minutes, stirring occasionally, or until the tomatoes break down.
Add warm water one tablespoon at a time if the sauce starts to dry up.
Lower heat to medium, and cook 5-10 minutes more.
Remove from heat.
Add the basil leaves.
The sauce should be thick and chunky. Too much liquid in the sauce will make the dish watery.
Frying the Eggplant
Dry all eggplant slices with paper towels.
Heat the 3 cups of olive oil in a saucepan until it reaches 375F.
Add as many eggplant slices as will fit in a single layer.
Cook 2 minutes on the first side, and one minute on the other.
Transfer slices to a paper-towel lined plate.
Repeat until all eggplant slices are fried.
Assembling and Baking
Preheat the oven to 450F.
Place one layer of eggplant slices in the bottom of a baking dish.
Add a generous layer of tomato sauce.
Add a layer of mozzarella (about half).
Add another layer of eggplant.
Add one last layer of sauce.
Add one last layer of cheese.
Bake in the oven for 20-25 minutes
Allow the dish to rest at least 15 minutes before serving.