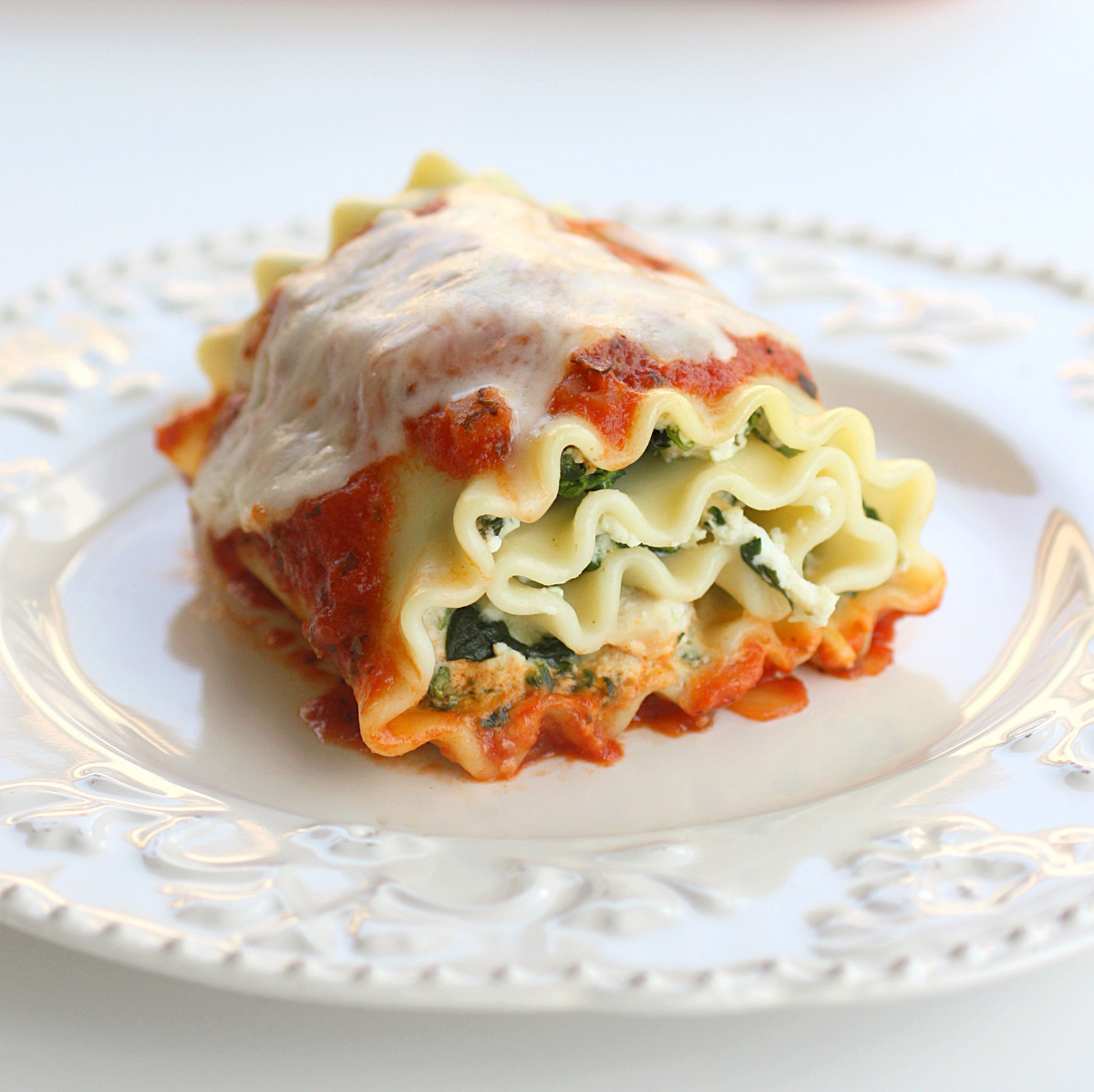 Who doesn't love a good lasagna? This hearty dish is a favorite in our household, but it's not something we can eat all the time (at least that's what my doctor told me). These eggplant and spinach lasagna roll-ups are just as good as its classic Italian cousin, but aren't as hard on your waistline.
Ingredients
Tomato Sauce
5 tbsp. olive oil
3-pounds plum tomatoes, halved
1/2 tsp. black pepper
3/4 tsp. salt
1 onion, chopped
2 garlic cloves, minced
1/2 cup water
1/4 cup basil, chopped
Lasagna Roll-Ups
3 tbsp. olive oil
2-pounds eggplants, halved crosswise and cut into slices less than 1/4″
1 garlic clove, chopped finely
1-1/4 tsp. salt
1/2 tsp. freshly ground black pepper
10 oz. baby spinach
1 large egg yolk, beaten
1-pound ricotta cheese
8-ounces lasagna noodles (not the no-boil kind)
Instructions
Making the Sauce
Start by preheating the oven to 450F.
Mix tomatoes with the 3 tablespoons of olive oil, 1/4 teaspoon of pepper and 1/2 teaspoon of salt.
Arrange tomatoes cut-side up in a single layer in a shallow baking dish. You may need two or more dishes.
Roast tomatoes on the upper and lower racks, switching positions halfway through, about 35-40 minutes. The skins should be wrinkled and browned slightly.
Remove from oven, and allow the tomatoes to cool slightly on racks.
Once the tomatoes are cool enough to work with, remove and discard the skins. Puree the tomatoes in a food processor with its juices until smooth. Now you can finish making the sauce:
Cook garlic and onions in 2 tbsp. oil in a 4-quart saucepan over medium heat for about 10 minutes.
Stir in water, tomato puree, pepper and salt.
Bring to a simmer, and cover partially.
Cook for 15 minutes, stirring occasionally, until thickened slightly. Reduce to about 4 cups.
Add the basil.
Roasting the Eggplant
Mix the eggplant with the garlic clove, oil, 1/2 tsp. salt and 1/4 tsp. pepper.
Arrange the eggplant in a single layer on baking sheets.
Bake for 12-14 minutes on the upper and lower racks, switching positions halfway through and turning the slices over.
Lower the oven temperature to 350F.
Assembling and Baking the Roll-Ups
While the sauce is cooking and the eggplant is cooling:
Cook the spinach in a 4-quart pot of salted boiling water for one minute.
Drain the spinach in a colander, and allow it to cool.
Once cool enough to handle, squeeze out excess water.
Chop coarsely.
Mix egg yolk, ricotta, salt, Parmesan cheese and pepper until well combined.
Meanwhile:
Cook the lasagna noodles in an 8-quart pot of boiling water (add salt to stop the noddles from sticking). Stir occasionally.
Drain the noodles in a colander.
Rinse under cold water.
To assemble:
Spoon 2 cups of the tomato sauce into a baking dish.
Arrange four lasagna noodles on your work surface, and spread filling evenly over each one.
Cover the ricotta mixture with one eggplant slice.
Roll up the noodle.
Place the roll-up seam-side down into the baking dish.
Repeat for the remaining noodles.
Gently brush the noodles with water.
Spoon sauce down the middle of the roll-ups.
Cover tightly with foil.
Bake on the middle rack until fully heated, or about 20 minutes.
Heat up the leftover tomato sauce to serve with the roll-ups.