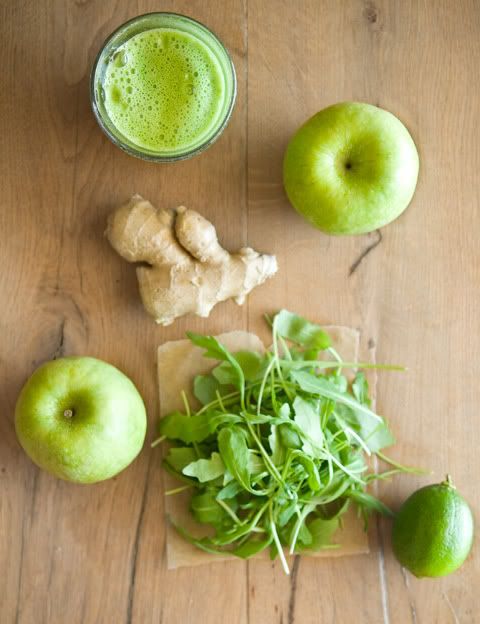 The other day I was at the studio doing this :
I was hungry so while chopping up all the fruits and stacking them I was eating the leftovers! I squirted some lime juice on a green apple slice and was shocked by how good it tasted! I would never think of combining apples with lime juice but seriously you HAVE to try it.
So after feeling like I had eaten way too much junk the past few days, tired and stressed, I wanted to add some green fuel into my body. I remembered how good apples and lime were together and made this juice adding a good kick of ginger and arugula. I suggest adding the arugula only is you have a high speed blender that can completely dissolve it; if not, it will leave pieces of green in your juice and wont be as good. But seriously this juice was exactly what I needed: sour, green, delicious, totally energizing and refreshing -the kind that makes you feel alive, if you now what I mean.
-2 green apples, juiced/2 πράσινα μήλα αποχυμωμένα
-fresh ginger, juiced (about 1 tbsp of juice)/φρέσκο τζιντζερ αποχυμωμένο (περίπου 1 κ.σ. χυμό)
-1 lime, juiced/1 λαιμ, στιμμένο
-a handful of wild arugula/ μια χούφτα άγρια ρόκα
-a few tablespoon water or 4 ice cubes/ λίγες κουταλιές νερό ή 4 παγάκια
So after juicing the apples, lime and ginger blend the with the wild arugula and ice in a high speed blender until there are no pieces left. Enjoy!
Αφού αποχυμώσετε τα μήλα, το τζιντζερ και το λαιμ βάλτε τα σε ένα δυνατό μπλέντερ με τη ρόκα και τον πάγο μεχρι να διαλυθεί εντελώς η ρόκα.

How do you cope when you are tired, stressed and need a good energy kick to pull you out of the quicksand called routine? Do you have a bring-me-back-to-life juice or food?