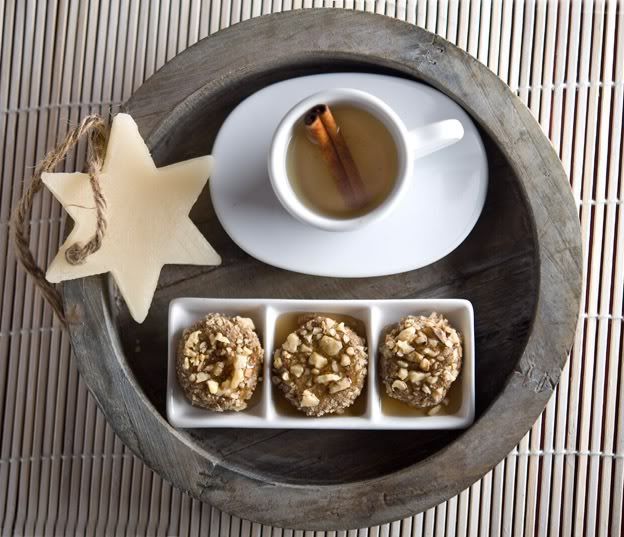 As you may know, melomakarona is a traditional vegan cookie that is spiced with cinnamon and clove and then soaked in spiced honey syrup. Last year I made a healthier and vegan version of the cookies, but this year I decided to make a raw version of them! (As you can see every year I update to even more extreme recipes!) This recipe is awesome and comes together really quick. But you do need some tools to get you going. You will need to make raw flour out of whole raw oat groats by simply grinding them in a high speed blender. If you don't have a powerful blender you can use store-bought oat flour, but it won't be raw

.  Then you need to pop them in a dehydrator, but a slightly warm, turned off oven with the fan and light on will do as well.
Όπως ξέρετε τα μελομακάρονα είναι τα παραδοσιακά Χριστουγεννιάτικα μπισκότα. Πέρσυ σας έδωσα μια συνταγή για πιο υγειινά μελομακάρονα, αλλά φέτος σας δίνω μια ωμοφαγική συνταγή για μελομακάρονα (Κάθε χρόνο και καλύτερα!). Αυτή η συνταγή είναι πεντανόστιμη και πανεύκολη, αλλά χρειάζεστε κάποια εργαλεία. Για να κάνετε ωμό αλεύρι βρώμης, πρέπει να πάρετε ολόκληρους σπόρους βρώμης και να τους θριμματίσετε σε ένα δυνατό μπλέντερ-grinder. Αν δεν έχετε κάτι τέτοιο, μπορείτε να πάρετε αλεύρι βρώμης αγοραστό, αλλά δεν θα είναι ωμό γιατί θα έχει υποστεί ζεμάτισμα για λόγους συντήρησης. Μετά χρειάζεστε έναν αφυγραντή για το "ψήσιμο", αλλά πάλι και χωρίς αφυγραντή τα πράγματα είναι εύκολα:  Ένας θερμός (περίπου 40C) φούρνος, σβηστός με μόνο αναμμένο το φώς και τον αέρα θα λειτουργήσει.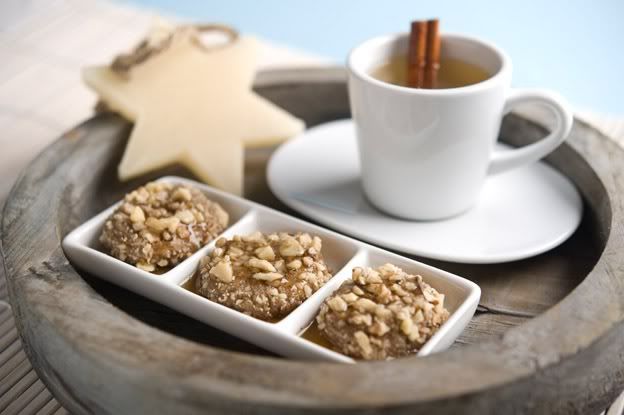 Ingredients for 60 cookies

-2 1/2 cups oat flour/ 2 1/2 κούπες αλεύρι βρώμης
-2 tbsp ground flaxseed/ 2 κ.σ. αλεσμένο λιναρόσπορο
-400 gr raw walnuts/ 400γρ. ωμά καρύδια
-1 tbsp ground cinnamon/ 1 κ.σ. καννέλα σκόνη
-1 tsp ground cloves/ 1 κ.γ. γαρύφαλλο σκόνη
-1/2 tsp nutmeg/ 1/2κ.γ. μοσχοκάρυδο σκόνη
-1 cup agave syrup/ 1 κούπα σιρόπι αγαύης
-1/2 cup orange juice/1/2 κούπα πορτοκαλάδα
-peel from 1 orange / τρίμμα από 1 πορτοκάλι
Spiced agave syrup
To infuse your agave syrup, add a cinnamon stick and a few cloves in the agave jar and let it infuse for at least 24 hours, so make this ahead.
Για να αρωματίσετε το σιρόπι αγαύης, προσθέστε μέσα στο μπουκάλι του ένα στικ κανέλας και μερικά γαρλυφαλλα και αφήστε το για τουλάχιστον 24 ώρες.

Divide walnuts in half. Put the first half in the food processor and process until it becomes fine crumbs. Set aside. Now put in the food processor the other half that you will only pulse a few times to get coarse walnut pieces to top your cookies with. Place the coarse walnut pieces in a bowl and set aside.

To make the cookie batter, combine the finely ground walnuts with the raw oat flour, ground flaxseeds, cinnamon, cloves and nutmeg. Whisk the dry ingredients. Then mix the orange juice with the agave and the orange peel. Pour the liquid mix in the dry and stir with a wooden spoon until the batter comes together. Let it sit for 10 minutes and then take a tablespoon and start shaping the cookies. To shape a cookie, measure out 1 tablespoon of dough and roll it with your hands to form a ball, then dip it in the coarse walnut pieces to cover. Place down on a baking sheet and press with your fingers  to flatten it a bit. Repeat until there is no batter left. I made 60 cookies, a scant tablespoon each. Dehydrate for 6-10 hours. After dehydrating, drizzle each cookie with a dollop of spiced agave syrup.

Χωρίζουμε τα καρύδια σε μερίδες των 200γρ. Βάζουμε 5=200γρ. στο μούλτι και τα χτυπάμε μέχρι να γίνουν πούδρα. Τα άλλα 200γρ. τα χτυπάμε στο μούλτι ελάχιστα, απλά να κοπούν σε κομμάτια και τα μεταφέρουμε σε ένα μπωλ στην άκρη. Αναμειγνύουμε τα καρύδια που έχουμε τρίψει ψιλά-ψιλά μαζί με το αλεύρι βρώμης, τον αλεσμένο λιναρόσπορο και τα μπαχαρικά. Στη συνέχεια ανακατεύουμε την πορτοκαλάδα με το σιρόπι αγαύης και το τρίμμα πορτοκαλιού. Ρίχνουμε το υγρό μείγμα στο μπωλ με το ξηρό μείγμα και ανακατεύουμε με ένα κουτάλι μέχρι να γίνει ζυμάρι. Το αφήνουμε για 10 λεπτά και στη συνέχεια πέρνουμε ένα κουτάλι σούπας για να μετράμε τη ζύμη. Για να φτιάξουμε 1 μπισκότο, πέρνουμε μια κουταλιά από τη ζύμη και πλάθουμε σε στρογγυλό σχήμα με τα χέρια μας. Στη συνέχεια βουτάμε μέσα στα σπασμένα καρύδια και μεταφέρουμε στο δισκάκι του αφυγραντή που έχουμε τοποθετήσει από πάνω λαδόκολλα. Πιέζουμε ελαφρά με τα δαχτυλά μας πάνω στο μελομακάρονο. Συνεχίζουμε έτσι μέχρι να τελειώσει όλη η ζύμη.  Στη συνέχεια τα βάζουμε σε 2 δισκάκια στον αφυγραντή και τα αποξηρένουμε στους 41C για 6-10 ώρες. Αφού είναι έτοιμα, στάζουμε λίγο σιρόπι αγαύης πάνω σε κάθε μελομακάρονο και σερβίρουμε.