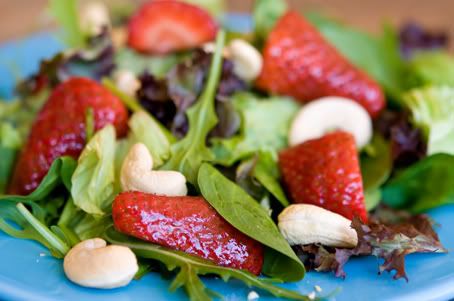 The strawberry cashew combination is just the best!!This recipe is very refreshing, mouthwatering and yummy.

Salad
-1 cup fresh chopped strawberries/ 1 κούπα φρέσκιες φράουλες
-1 package of greens for salad (your choice)/ 1πακέτο σαλάτα της επιλογής σας
-1/2 cup raw unsalted cashews/ 1/2 κούπα ωμά ανάλατα κάσιους
Dressing
-2 tbsp olive oil/ 2 κ.σ. ελαιόλαδο
-4tbsp cup balsamic vinegar/ 4 κ.σ. μπαλσάμικο
-3tbsp maple syrup/ 3 κ.σ. σιρόπι σφένδαμου
-1/4 tsp salt/ 1/4 κ.γ. αλάτι
-1 tsp mustard/ 1 κ.γ. μουστάρδα
-1/4tsp xanthan gum [optional]/ 1/4 κ.γ.  κόμι ξανθάν [ προαιρετικά]
Mix together in a bowl oil, salt, maple, xanthan gum and balsamic vinegar. Add the strawberries to the mixture you just made, and the cashews as well crushing them with your hand. Let this marinate for 10 minutes and then pour over the salad greens and mix!
Serves 4