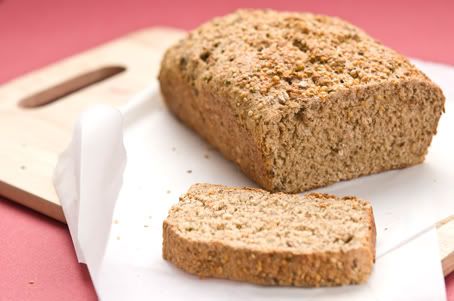 This bread came out very good. I am not a bread person,[I just love baking it!] yet this loaf disappeared the first day I made it. Me and my mother ate the whole thing!
Hemp seeds are nutritionally similar to nuts : High protein(31%) and high unsaturated healthy fats. Actually hemp seeds are exceptionally rich in Omega-3 and vitamin E. So I had these hemp seeds sitting in my fridge since I ordered them…I just HAD to ordered them when I saw them, because my favorite bread in the world is the sprouted hemp bread by Sunnyvale. So I really wanted to experiment with hemp seeds on my own.
But I have been doing a lot of thinking because you can make ANYTHING with hemp seeds. Hemp milk, hemp butter, even hemp ice cream!! Or you can use it as a topping for salads and other dishes…So what should I do with it??And then it hit me! I have been wanting to try an oak smocked malted blend flour I saw in the organic food store I shop and what a better way to try my hemp seeds and the fancy four???Yes yes I made a hemp bread using this special flavored flour. And here it is, in all its glory! So I used the recipe in the back of the flour package but throwing in 1/3 cup hemp seeds and using agave nectar instead of honey!
This bread has a crunchy crust and is moist on the inside. It can't rise too much to make many bubbles, due to the nature of the flour, but I like it like that. If you want to go for a lighter bread with more air holes inside you should substitute half of the flour with strong white flour. I just add some gluten powder to help it rise.
-500gr [3 cups]oak smocked malted blend flour by Bacheldre Watermill
-1/2 cup shelled raw hemp seeds
-1+1/2 tsp salt
-2 tsp agave syrup
-1 pack active dry yeast
-330ml warm water [1 1/2 cup]
-4 tbsp gluten powder
Combine hemp seeds, flour and salt. Separately combine active dry yeast, warm water and agave syrup and let stand for 5 minutes. Make a well in the center of the dry ingredients and pour the liquid yeast mixture. Stir with a wooden spoon until all of the flour is wet. Move to a floured surface and with floured hands knead for 5 minutes, until dough is 'smooth' [it wont be completely smooth because of the hemp seeds]
Now place in an oiled bowl and cover with damp cloth for 2 hours or until yeast has doubled in size.
Preheat oven at 180C.Deflate dough and shape a loaf or buns as you wish.Cover again and keep in a warm place for 1 hour or until it has doubled in size again [ it might wont rise that much, so dont worry if its been an hour and it hasn't doubled. Just bake the damn loaf] Bake for 30 minutes. When its don move to a cooling rack.
This bread is really good with hummus spread on it. You wont be hungry for quite some time after 2 slices of the hemp bread with hummus!!