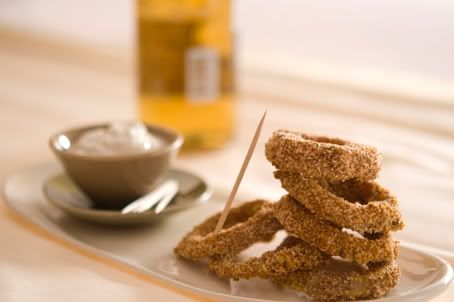 I have been craving onion rings lately…But I just don't like the idea of deep fried food. [Of course if you wish you can fry these, just make sure I don't find out!] I made a research on fried and baked onion rings, and I came up with this recipe that makes a really crunchy and tasty onion ring that's low in fat, vegan and healthy! Also you won't need a whole can of beer, so you can drink the rest while cooking

You need :
– 2-3 onions sliced in circles/ 2-3 κρεμμύδια κομμένα κυκλικά
-2 tbsp flaxseeds/ 2 κ.σ. λιναρόσπορο
– 3tbsp water/ 3κ.σ. κούπας νερό
-1/2 cup beer of your choice/ 1/2 κούπα μπύρα της επιλογής σας
-4 tbsp [wholewheat] flour/ 4 κ.σ. αλεύρι ολικής
-3 tbsp chickpea flour or regular white flour/ 3 κ.σ. απλό άσπρο αλεύρι ή ρεβυθάλευρο
-2tbsp nutritional yeast/ 2κ.σ. διατροφική μαγιά
-1 tsp salt/ 1κ.γ. αλάτι
-1tsp paprika/ 1κ.γ. πάπρικα
-3/4 cup [wholewheat] breadcrumbs/ 3/4 κούπα φρυγανιά ολικής
– Olive oil spray/ ελαιόλαδο για ψέκασμα
First grind your flaxseeds as fine as possible, unless you use flaxmeal. Now place them in a small mixing bowl with the water and leave for 10 minutes or until the water become slimy/sticky (that's our egg white sub). When flax egg is ready combine with beer and gradually add whole wheat flour while stirring. In a separate mixing bowl combine breadcrumbs, nutritional yeast, salt and paprika. And in another big mixing bowl place white flour or chickpea flour. (I know it sounds like a lot of work, but it's worth it!)
Place onion rings in the bowl with the chickpea or white flour and toss to cover them.Now one by one dip onion rings in the beer batter, lift with a fork and toss it in the breadcrumb mix to cover it completely. Oil a baking dish and place onion rings inside one next to the other. Spray with more oil over onion rings.
Preheat oven at 190C and bake for 30 min or until golden brown and crispy. Serve them with sour cream dip. If you have leftover batter store in the fridge to reuse within a week. Also don't throw away the parts of the onion you didn't use! Just store them for later use in something else!
Πρώτα αλέστε το λιναρόσπορο, [εκτός αν τον αγοράζετε κοπανισμένο] όσο πιο καλά μπορείτε. Μετά προσθέτε του το νερό και αφήστε το για 10 λεπτά να πήξει. Μόλις πήξει προσθέστε τη μπύρα και σταδιακά το αλεύρι ολικής. Σε ένα ξεχωριστό μπωλ βάλτε τη φρυγανιά, το αλατι, πάπρικα και τη διατροφική μαγιά. Σε ένα τρίτο μεγαλύτερο μπωλ βάλτε το ρεβυθάλευρο μαζί με τα κρεμμύδια και ανακατέψτε με τα χέρια να πάει το αλεύρι παντού.
Παίρνοτας ένα-ένα τα κρεμμύδια,  βουτήξτε τα στο μείγμα με τη μπύρα, με τη βοήθεια ενός πιρουνιού βγάλτε τα και πασπλίστε με τη φρυγανιά. Σε ένα λαδωμένο ταψί βάλτε τα το ένα δίπλα στο άλλο και ψεκάστε με περισσότερο ελαιόλαδο. Ψήστε στους 190C για 30 λεπτά ή μέχρι να ροδίσουν. Σερβίρεται αμέσως με σως γιαουρτιού σόγιας.