I love lemons so much it's ridiculous. We stock up on lemons and 3 days later there is none left! Lemons are in peak this time in Greece and last weekend me and my boyfriend went lemon picking. Lemon, orange, mandarin and 5 random grapefruit picking to be exact! But mostly lemons of course!
It is a lot of fun picking your own fruit and it also makes you feel very close to nature. It is just great to pick fruit off a tree, collect them and then go in the kitchen and make something out of them-even if that means just making juice.


It's the feeling of accomplishment and the fact that it's for free! No money and grocery shopping is involved. You meet the tree that so kindly gives you it's fruit, you touch it and you know where your food comes from.
Here are some action pictures and a rustic lemon/oat bar recipe :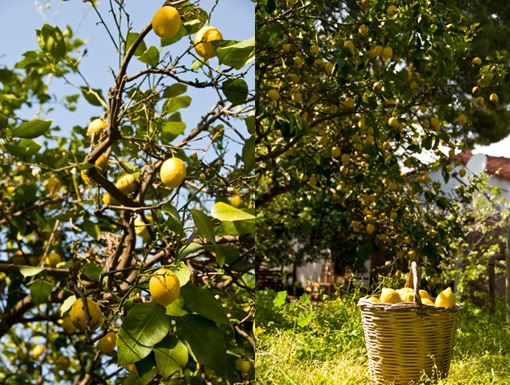 Crust
-1 cup oat flour [grind oats in a food processor]/ 1 κούπα αλεύρι βρώμης [αλέστε βρώμη στο μπλεντερ]
-1/2 cup wholewheat spelt flour/ 1/2 κούπα αλεύρι ντινκελ ολικής
-5 tbsp coconut butter/ 5 κ.σ. βούτυρο καρύδας
-1/4 cup rapadura sugar/ 1/4 κούπας ζάχαρη ραπαντούρα
-2tbsp water/ 2 κ.σ. νερό
-pinch of salt/ πρέζα αλάτι
Filling
-1 cup fresh lemon juice/ 1 κούπα φρέσκο χυμό λεμόνι
-400ml light coconut milk/ 400μλ ελαφρύ γάλα καρύδας
-2tbsp lemon zest/ 2κ.σ. ξύσμα λεμονιού
-1/2 cup corn starch/ 1/2 κούπα άμυλο αραβοσίτου
-1/2 cup agave syrup*/ 1/2 κούπα σιρόπι αγαύης*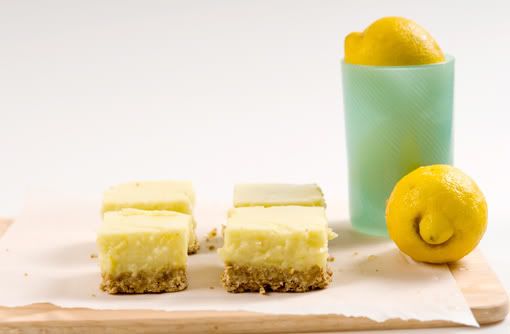 First make the oat flour and mix with spelt flour, salt and sugar. Add coconut butter in chunks and mix with your hands. Add water and keep mixing until everything is well combined. In a greased baking dish add the oat mix and press with your hands to form the crust. Using a fork pierce the surface of the crust and bake in preheated oven for 30 minutes at 180C. Remove from the oven and let it cool. Meanwhile make the lemon filling. In a pot combine agave, coconut milk and cornflour. Whisk until the cornflour is completely dissolved. Add lemon zest. Bring to boil whisking continuously and once it starts to thicken removed from heat. Add lemon juice  and continue stirring for 3 minutes. Let the mixture cool completely and pour over the crust. Chill until set.
Πρώτα φτιάξτε το αλεύρι βρώμης και ανακατέψτε το με το ντινκελ, το αλάτι και τη ζάχαρη. Προσθέστε το βούτυρο καρύδας σε κομματάκια και το νερό και πλάστε το μείγμα με τα χέρια σας μέχρι να γίνει ομοιογενές. Σε ένα μικρό ταψάκι απλώστε τη ζύμη με τα χέρια σας και με ένα πιρούνι τρυπήστε την επιφάνεια της. Ψήστε για 30 λεπτά στους 180 βαθμούς και αφήστε το να κρυώσει εντελώς. Στο μεταξύ φτιάξτε τη γέμιση. Σε ένα κατσαρολάκι βάλτε το γάλα καρύδας, το σιρόπι αγαύης και το άμυλο. Χτυπήστε με το σύρμα μέχρι το άμυλο να διαλυθεί τελείως και προσθέστε το ξύσμα λεμονιού. Βράστε το μείγμα ανακατεύοντας συνεχώς και μόλις αρχίσει να πήζει απομακρύνετε από τη φωτιά, ρίχνετε μέσα το χυμό λεμονιού και ζυνεχίζετε το ανακάτεμα για 3 περίπου λεπτά.  Αφήστε τη γέμιση να κρυώσει και ρίξτε τη πάνω από την κρούστα και βάλτε στο ψυγείο μέχρι να πήξει τελείως.
*You can also use other sweetener or sugar and adjust to your taste. You might want to use more sweetener as I like the lemon bars with a strong tart flavor.
*Μπορείτε να χρησιμοπιήσετε άλλο γλυκαντικό ή ζάχαρη και να προσαρμόσετε στη γεύση σας. Ίσως θελήσετε να το κάνετε πιο γλυκό, φτιάχνω αρκετά ξυνή τη γέμιση.